It is said that the lord of Puligny-Montrachet divided his estate among his children: The eldest son or "Knight" (Chevalier), his daughters or "Virgins" (Pucelles) and "Bastard" (Bâtard). Each had his hand and three climates have kept their name Chevalier-Montrachet, Puligny-Montrachet Les Pucelles and Bâtard-Montrachet.
Story
Location
Production aera: 11.73 ha
Altitude : 230-250 m
Terroir
Vineyard located right above Bienvenues-Bâtard-Montrachet in the direction of le Montrachet in the South part of the shoulder of the hill.
It is a former Domaine Leflaive property.
Soil : Calcarious clay
In the vineyard
Wine-Growing method : HVE (High Environmental Value, level 3)
Harvest: 100 % manual


Vinification
At their arrival in our cellar, the grapes are immediately and carefully pressed with a pneumatic press .
100 % whole berries
Finning: yes
Filtration : yes
Ageing
18 months (whose 6 months in stainless steel tank)
100 % oak barrels (whose 25% of new oak)
Varietals
Chardonnay : 100%

Specifications
Alcohol content: 14,5 ABV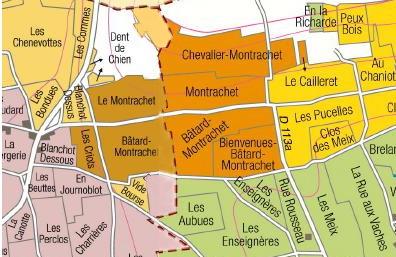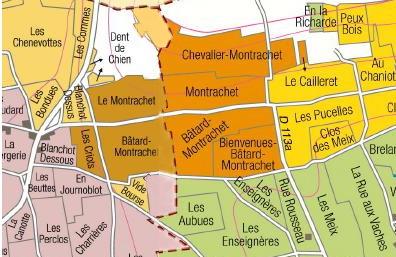 Advice
Serving
Serving temperature : 12-14°C
Should be drunk between 2024 and 2029

Tasting notes
Rich green gold in color, this wine has opulently fragrant and very expressive aromas. The palate is powerfully structured, with thrilling fruit concentration and magnificent length. Finesse, complexity and elegance.
Food and wine pairings
Ideal with sophisticated food and complex textures: foie gras, caviar, lobster, firm white flesh fish such as Lotte and lean meat like veal and chicken served in a buttery and creamy sauce.
Reviews
"

Glowing pale primrose, with a really impressive high-class bouquet, discreet white fruit notes. This 2019 Bâtard-Montrachet manages to maintain a floral context, closer to optimal rather than maximal ripeness, basking in a well-judged vanilla oaky envelope, gracious long and fine, with lovely lees content. Very fine.

"
"

A hint less open than the Bienvenues but similar in style with just an impression of aromatic structure. Fuller in shape but not a wine of fat, there's mouth-watering energy that is the main theme here. Holding more tenaciously and 'minerally' in the finish vs the Bienvenues – more a style than a quality difference between these two in 2019 I think.

"